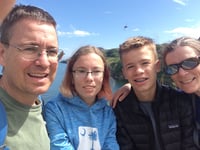 "I worry about how climate change will change [my children's] futures. Opting up to the 100% Local Green energy was an easy decision. We need to switch from fossil fuels to renewable energy, if we want to slow down the warming of the earth. And, paying for the cents more per kWh to help fund clean, local energy production is a concrete action I can make to improve the future of my kids."
Margaret P, Somerville resident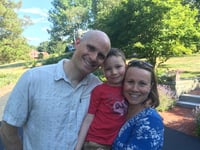 "It was easy to switch. We want a clean, healthy future for our 6-year-old son and all kids, and the way to get there is to make sure our energy comes from renewable sources... Our kids depend on us to make healthy choices, and Somerville is making it easier for us to do so. And now the 100% renewable rate is so close to the regular Eversource rate it's a total no brainer to switch!"
Jessica G & Ben L, Somerville resident